A Baseball Bat Anatomy consists of five main parts: the knob, grip, barrel, taper, and end cap. A high-quality bat contains high-grade wood or composite materials to improve its performance and durability.
Baseball bats are designed to meet specific player preferences and leagues' regulations, so choosing the right one requires some knowledge of the player's swing style and the league's rules. Baseball bats are one of the most important tools in the game of baseball.
From one-on-one practice to professional games, choosing the right bat will increase player performance and help achieve better scores. However, choosing the right bat is often a daunting task; with so many options on the market, beginners and experienced players alike can feel overwhelmed. As a result, this article will delve into baseball bat anatomy, including the different parts of the bat and what to look for when purchasing one.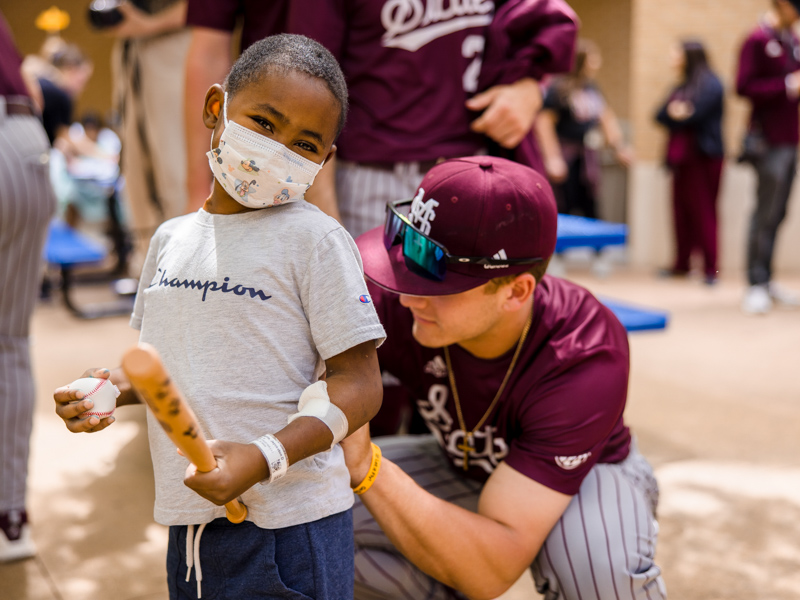 Credit: www.umc.edu
The Different Types Of Baseball Bats
Baseball Bat Anatomy: The Different Types Of Baseball Bats
Baseball has been america's favorite pastime for over a century. And the bat is one of the essential pieces of equipment. It is the player's weapon of choice, and choosing the right bat can make all the difference in their performance.
Thus, it's essential to understand the different types of baseball bats in the market. The most common types of baseball bats are wood, aluminum, and composite bats. Let's take a more in-depth look at each of these three possibilities.
Wood Bats
Wood bats are the oldest and most traditional form of baseball bats. They come in various types of wood, including maple, ash, birch, and bamboo. These bats have several pros and cons, such as:
Pros
They offer a more natural feel and a classic look.
They have a better balance, which gives the players more control.
They allow players to adjust their grip according to their preferences.
Cons
They have a smaller sweet spot, which makes it harder to hit the ball.
They require more maintenance as the wood can chip or crack quickly.
They lack consistency due to the varying densities of different types of wood.
Aluminum Bats
Aluminum bats were introduced in the market in the 1970s and are now the most common type of bat used. They are made of an aluminum alloy, making them lightweight and durable. The pros and cons of aluminum bats are as follows:
Pros
They have a larger sweet spot, making it easier to hit the ball.
They are more durable and last longer than wooden bats.
They are more economical as they can be used for longer periods.
Cons
Their lightweight nature can affect the player's swing, making it less comfortable.
They offer a stiffer feel, which can cause additional stress on the player's hands.
They don't offer a unique sound like traditional wooden bats, which some players find off-putting.
Composite Bats
Composite bats are a combination of both wood and aluminum bats and have been introduced in recent years. These bats utilize modern technology to optimize player performance. The pros and cons of composite bats are:
Pros
They have the largest sweet spot, making it more comfortable to hit the ball.
They offer a more forgiving swing as they absorb shock, causing less vibration in the handle.
They are lighter in weight, providing a smooth and comfortable swing.
Cons
They are usually expensive compared to wooden and aluminum bats.
They have a shorter lifespan as the composite material can crack or break easily.
They require more attention as they are not suitable for cold temperatures.
Differences in design and construction among the three types of bats
The design and construction of baseball bats differ among wooden, aluminum, and composite bats. Some of the differences include:
Material – wooden bats are made of solid wood, while aluminum and composite bats are made of specialized alloys and composites.
Weight – wooden bats are heavier than aluminum and composite bats.
Barrel size – aluminum and composite bats have a larger barrel size, while wooden bats have a smaller barrel size.
Durability – aluminum and composite bats are more durable than wood bats.
Selecting the right baseball bat depends on the player's preference and skill level. It's essential to consider the types and design of bats before purchasing, as it can significantly affect the player's performance. Whether it's a wooden, aluminum, or composite bat, each type has its benefits and drawbacks.
As a result, it's crucial to make an informed decision when purchasing a baseball bat to ensure optimal results.
Baseball Bat Components
Baseball Bat Anatomy: Understanding The Different Components
When it comes to baseball, the type of bat you use can have a significant impact on your performance. It's important to know the different components that make up a baseball bat and how they affect your swing. In this post, we'll look at the various parts that makeup a baseball bat and what you need to know to help you choose the best one for your game.
Grip/Handle
The grip and handle are important parts of a baseball bat because they dictate how well you can hold and control the bat during your swing.
Importance of grip and handle: A good grip and handle can help you generate more power in your swing. It also ensures that you have better control of the bat while hitting the ball, reducing the chances of losing your grip and missing the ball.
Types of grips: The three main types of grips used in baseball bats include the knob, tapered knob, and standard. Each grip has its benefits and drawbacks, so it's essential to choose the one that suits your preferences and playing style.
Choosing the right size handle: Getting the right handle size ensures that you can hold the bat correctly and keep a firm grip during your swing. You'll need to factor in factors like hand size, age, and personal preference to select the perfect handle size for your unique needs.
Barrel
The barrel is the thick part of the bat that makes contact with the ball during a swing. It's essential to choose the right barrel size to ensure maximum performance. Here are some key barrell points to consider:
Importance of barrel size: The bigger the barrel size, the larger the sweet spot, which means more effective shots. On the other hand, the smaller the barrel, the more control you have over the bat.
Differences in material and design: Baseball bat barrels can be made from different materials, each with its benefits and drawbacks. For instance, alloy barrels are more durable than composite barrels, but composite barrels offer better flexibility and trampoline effect when hitting the ball.
Taper
The taper refers to the gradual thinning of the barrel towards the handle. Here's what you need to know:
Purpose of taper: The taper allows for a smooth transition from the handle to the barrel. This can help reduce vibration and give you more control over the bat.
Role in swing mechanics: A good taper can help improve your swing mechanics by allowing for a more even distribution of weight along the barrel of the bat.
Knob
The knob is the small, rounded part at the bottom of the handle. Here's what you need to know about the knob:
Importance of the knob: The size and shape of the knob can help with grip and control. However, some players may find that larger knobs can be uncomfortable during a swing.
Different knob designs: There are various knob designs that range from rounded to flared. Each design has its pros and cons, so it's essential to find the one that suits you best.
The role of the knob in the overall feel of the bat: The knob has a significant impact on a player's feel of the bat. It can help balance the weight of the bat, making it feel more comfortable and easier to control during a swing.
Understanding the various components that make up a baseball bat is crucial for anyone looking to improve their game. Whether you're a seasoned pro or just starting, having the right bat can make all the difference. Keep these points in mind when choosing your next baseball bat, and you'll be on your way to improved performance on the field.
How To Choose The Right Baseball Bat
Factors To Consider
When choosing the right baseball bat, there are several factors to consider. Age and level of the player, league regulations, player's height, weight, and strength, and player's swing style all impact the type of bat that would be most effective.
Age And Level Of The Player
Younger players may benefit from a lighter bat to improve their swing speed
Older players may prefer a heavier bat for more power
Advanced players may want to consider a bat with a larger sweet spot for more consistent hits
League Regulations
Each league has specific regulations on bat length, barrel diameter, and weight
Before purchasing a bat, double-check that it adheres to the league's rules to avoid disqualification
Player'S Height, Weight, And Strength
The bat's length should correspond to the player's height for proper form and swing mechanics
A heavier bat may work for stronger players, but lighter players may benefit from a more lightweight option
Player'S Swing Style
Players with a faster swing may want a lighter bat for maximum speed
Players with a slower swing may benefit from a heavier bat for more power
Tips For Selecting The Right Bat
To ensure that you're selecting the right baseball bat, consider testing out several options before committing to a purchase.
Hold the bat in both hands to make sure it feels balanced
Practice a few swings to get a feel for the weight and length
Consider the type of grip on the bat, as it may impact your swing
Think about the type of hitter you are–power hitters may prefer a more solid wood bat, while contact hitters may prefer a composite or aluminum bat
By taking these factors into consideration and carefully selecting the right bat for your needs, you can improve your chances of success on the field.
Proper Care And Maintenance Of Baseball Bats
Baseball bats are an investment that need proper care and maintenance to maintain their longevity. Neglecting the performance of your baseball bat could decrease its efficiency and increase the risk of damage. Therefore, it is essential to learn how to properly care for your baseball bat.
We will guide you through the basics of bat care, cleaning, storage, tips for prolonging the lifespan of a baseball bat, avoiding misuse, avoiding exposure to extreme temperatures, and regular inspection and maintenance.
Basics Of Bat Care
To ensure your baseball bat's optimal performance, it is necessary to keep some basic bat care tips in mind:
Never lend your bat to others, particularly those who don't play regularly since they might accidentally damage the bat.
Always use regulation or approved balls for the bat.
Only use the bat for playing baseball, and don't use it as a tool.
Do not store the bat in direct sunlight or high humidity environments.
Cleaning
Cleaning the baseball bat with the right materials is critical to prevent damage to the wood or alloy.
Use a soft cloth to clean the bat after every use to remove any dust, dirt, or moisture that has collected on the bat.
If the bat has become excessively dirty, use a mild soap solution to clean it.
To remove difficult stains, use rubbing alcohol lightly.
Storage
Proper storage of your baseball bat is essential as it protects it from damage and ensures it stays in good shape.
Keep the baseball bat indoors in a cool and dry place
Avoid storing the bat near a heating vent or in the direct sunlight.
Do not stack heavy objects on top of the bat, which might cause it to bend or break.
Tips For Prolonging The Lifespan Of A Baseball Bat
With proper care and maintenance, you can prolong the lifespan of your baseball bat:
Rotate your bat during play so that you are not always hitting the ball on the same spot.
Avoid hitting the bat on metal cleats or concrete surfaces as this can cause severe damage.
Limit use in colder temperatures, as it can create stress cracks in the bat.
Avoiding Misuse
Not using it improperly can prevent damage to the bat and help it last longer.
Never throw the bat.
Never hit objects other than baseballs.
Avoid making contact with other baseball equipment, including catcher's gear and helmets.
Avoiding Exposure To Extreme Temperatures
To maximize the lifespan of your baseball bat, store it in a proper temperature.
Avoid keeping the bat in environments that are too hot or too cold.
Don't leave the bat inside a parked car during hot weather, as the temperature can quickly soar.
Regular Inspection And Maintenance
Make sure you frequently inspect your baseball bat.
Inspect the bat for damages such as dents, cracks or chips.
Replace your bat when cracks or chips are too big to be fixed.
Proper care and maintenance are essential in keeping your baseball bat in excellent condition and long-lasting. Ensuring that you follow the above simple tips will help you to protect your investment and keep it in the optimal shape for playing ball.
Frequently Asked Questions Of Baseball Bat Anatomy
What Are Baseball Bats Made Of?
Baseball bats are mostly made of wood, aluminum or composite materials.
What Is The Standard Weight Of A Baseball Bat?
A standard baseball bat weighs between 24 to 33 ounces.
Why Do Baseball Bats Have A Knob On The End?
A knob on the end of a baseball bat provides a better grip and prevents the bat from slipping from the batter's hand.
How Long Can A Baseball Bat Be?
42 inches is the maximum length for a baseball bat that may be used in any of the major leagues.
What Is The Difference Between Wood And Metal Bats?
Wood bats are heavier but provide better control, while metal bats are lighter and more powerful.
What Is The Barrel Size Of A Baseball Bat?
The barrel size of a baseball bat varies from 2 1/4 to 2 3/4 inches in diameter.
Can You Use Aluminum Bats In College Baseball?
Yes, in college baseball you can use aluminum bats along with composite and wooden baseball bats.
Do Bat Materials Change The Game Of Baseball?
Yes, the material used in a baseball bat affects the game, including its speed, performance, power, and durability.
What Is The Ideal Grip Material For A Baseball Bat?
The ideal grip material for a baseball bat is usually leather, rubber or synthetic material designed to provide a firm grip.
What Is The Cost Of A Good Quality Baseball Bat?
The cost of a good quality baseball bat can range from $50 to $500 depending on the material used, brand name, and the level of play it is designed for.
Conclusion
As we conclude this guide to baseball bat anatomy, it is clear that the type of bat you choose to use can significantly impact your performance on the field. From the handle grip to the barrel diameter, every feature affects how the ball comes off the bat and how well you can control it.
It is essential to know the differences between wood and aluminum bats, as well as the advantages and disadvantages of both. Furthermore, you should know the different types of wood and how they affect the weight and durability of your bat.
With this knowledge, you can make informed decisions when purchasing a baseball bat and improve your game. Keep practicing, stay focused and remember that your success depends on having the right equipment.